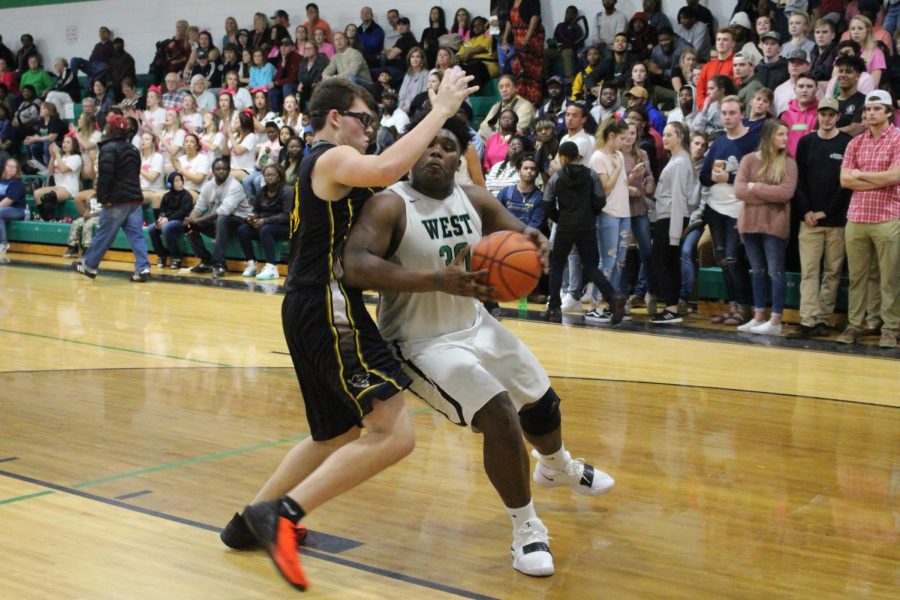 Teagan Coley
Down by 9 with five seconds left on the game clock, the seniors on the men's basketball team watched their final moments in a Trojan uniform tick away. The men's varsity basketball team ended their 2018-19 season advancing to the 2019 3A Men's Basketball Championship level where they lost by only nine points.
The men's varsity basketball team ended their season with overall 14-13 record and a 7-7 conference record. At this season's end, the men's basketball team will lose three seniors; Caleb Gilbert, Hayden Grimes, and Alex Younts. All three which have played on the basketball for their entire high school career. Gilbert has expressed many feelings towards the ending of his last basketball season here at west.
"It's pretty sad since I played all four years on varsity," senior Caleb Gilbert said. "but I will prepare for the next level which is college and I will remember the memories I had in high school."
On February 14, the men's varsity basketball team played their rivalry game against South Brunswick, defeating the Cougars 67-54. This game was also Trojan Senior Night where senior team members were celebrated for their hard work and dedication to the basketball program.
"Senior night was very emotional, seeing my other senior teammates Alex Younts and Hayden Grimes crying, and me crying," Gilbert said. 
Since the seniors will not be returning to West Brunswick next year for another basketball season they would like to leave a few words of encouragement to the players of the future.
"Don't be afraid to fail, help your teammates out leading them into a victory and play hard," Gilbert said.