Ocean Pollution: An Increasing Problem
Hang on for a minute...we're trying to find some more stories you might like.
A rising environmental issue has been taking huge effect and unfortunately it's the largest body of the earth, the ocean. In fact, the ocean is so big that we assume the vast amounts of pollution going into the ocean will have little to no effect. According to the Great Pacific Garbage patch and the microplastics found in the ocean, we assume wrong.
The problem begins with you and I, the use of plastics, garbage and the way mankind disposes of them. Everytime a piece of trash does not get thrown away, that trash is most likely going to end up in streams, rivers or drainage pipes due to winds, and all of these end up in the ocean. We are able to pick trash off the ground, easy, however putting on a diving suit to collect trash from a massive ocean seems a bit challenging. Furthermore, how could you collect trash that is so small, we couldn't see it with a naked eye? The biggest problem with ocean pollution is the plastics that wonder in ocean for so long that they break down smaller and create microplastics. Microplastics are a huge threat to the ocean and aquatic life, and even us. Since these microscopic pieces are an abundance in the water, they are being consumed by aquatic life, which is a huge source of food for humans. This means that by polluting our seas with trash is not only hurting all marine environments, but also hurting us as we are also consuming microplastics. That's something to think about next time we decide to throw plastic bottles on the ground because there is not a trash can near by.
Although plastics are a huge factor of ocean pollution, and one we often think about, it is not the only thing that is turning the ocean into a giant wasteland. Ocean acidification plays an important part in aquatic environments and the natural balance of water in the ocean. The oceans natural pH averages at 8.2, making it slightly basic. Over the past couple decades the pH has dropped slightly but surely making the water a little more acidic than it should be, and the main cause of this is CO2 (Carbon dioxide). If you have taken any science class, mainly environmental science, you know that CO2 is one of the leading problems in environmental issues today. This deadly gas is caused by the burning of fossil fuels, the world's number one source of energy. It clogs our atmosphere and is believed to be the cause of global warming, and whatever is in the air gets absorbed by the ocean. Carbonate ions are building blocks for the structure of organisms with shells and coral. When the Carbon dioxide gets absorbed in the ocean, these particles mixed with seawater makes the carbonate ions become less abundant, increasing the depletion rate of all organisms with shells in the ocean. This means we are putting coral reefs, shells of oysters, clams, sea turtles, and any marine animals with shells at risk.
All marine ecosystems, and anything that lives in the ocean are all in danger because mankind refuses to change the way we treat our environment, and our environment effects their environment. The switch is quite simple, yet we still struggle to do so. Is it that we don't understand our path of destruction? In the end this path is not only damaging other organisms, but also damaging us, mankind. Make the switch, save the ocean, and save yourself.
About the Writer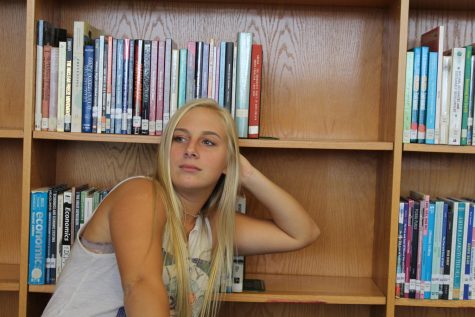 Isabelle Smeltzer, Staff writer
Isabelle Smeltzer is a senior at West Brunswick and this is her second year in the journalism program.  Izzy has a very creative mind and has an energetic...