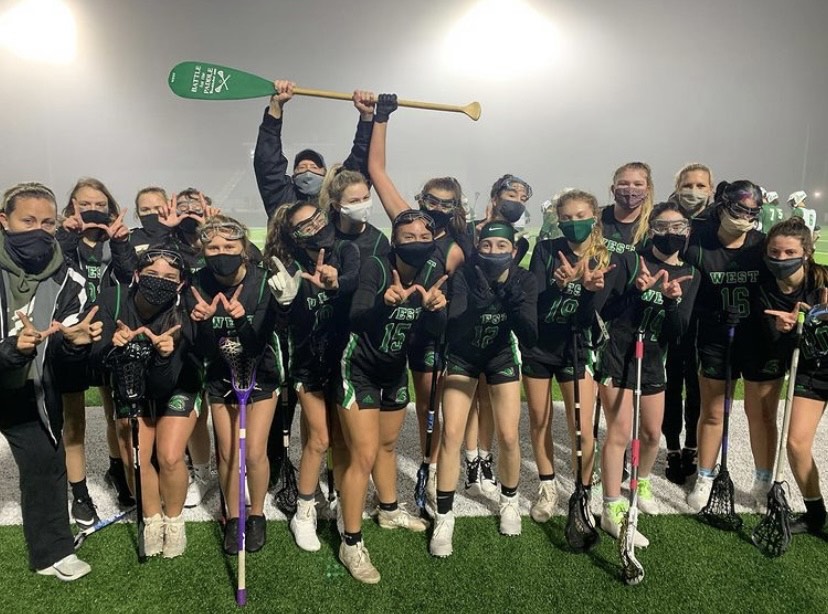 unknown
After a long year of anticipation, the West Brunswick Women's lacrosse team faced their rivals, the South Brunswick Cougars, for both a home and away match-up. Each year, the two teams compete head to head, in the "Battle of the Paddle." This tradition was established in 2019, and the Lady Trojans have yet to be defeated by the Cougars–keeping the paddle at home. The games that took place on February 15th and March 10th were tough. Each team brought a great deal of heat and intensity to the field as evidenced by the close final score: 11-10 in West's favor the first game and a 22-11 West victory at the second.  
"It was very nerve-racking because we didn't know which way the game was going to go," said sophomore attacker Macie Coley. "It was very back and forth points-wise, and we weren't sure if we were going to come out with the win."
So many rivalry teams have a special trophy passed between them, and the paddle has a special meaning behind it. The coaches from both teams came up with the idea for the paddle based on the story of how lacrosse came to America. Ancient settlers used paddles to row to shore when they arrived, and this story is told to the players before every rivalry game. As for how the paddle came into existence, West's head coach, Dan Rozen, made it himself. He sanded the wood, painted it, and he made vinyl stickers to put on the paddle. Since that day, the paddle is brought to every rivalry game and serves as a symbol of fighting to be the best women's lacrosse team in Brunswick County.
"The paddle is taken prior to the game to the scorer's table, and it is used as the arrow to point the possessions during the game," said Dan Rozen. "Upon the conclusion of the game, the seniors go and grab the paddle and bring it back to the team."