Lauch Murphy: Two Sports, One Season
How a soccer star turned into a football phenomenon.
Sophomore Lauch Murphy played both soccer and baseball as a Freshman, and at the start of this season, he began to play both of these sports again as usual.  Murphy was not looking to play any other sport until Coach Woody Dunn asked him to come try to kick a field goal which then turned into many and is now an integral part of the team. Seeing potential in Murphy, Dunn pointed him in the direction of Coach Keith Wood.  Coach Wood has been working with Murphy on his kicking skills ever since.
"Lauch has a strong leg and has the opportunity to be very good," said Coach Wood, who doesn't toss around praise lightly.
The first scrimmage of the football season was at the BB&T Jamboree against Hoggard.  Lauch, having never kicked in a football game before, came out and successfully kicked a 47 yard field goal.  For those that may not know, that is an extremely impressive feat for a high school kicker, much less for a first attempt.
When asking Murphy about the difference between kicking a soccer ball and a football, he states that it is quite different.  
"You have to kind of lean over a soccer ball and it is the exact opposite for kicking a football," said Murphy.   
Technically, kicking a soccer ball and a football require two entirely different skill sets.  The size and shape of the football requires that it is striked in only one spot, called the "sweet spot" that is the lower middle half of the ball.  The soccer ball, of course, has a larger surface area and you can kick it in different places and in different ways to make it curve or spin.
When talking about game time atmosphere, Lauch states, "It is energizing.  When I start the game by kicking off, there are hundreds of people in the student section.  When the music starts and people are cheering it's like nothing else."
Even though Murphy has to attend two practices, and sometimes gets off the soccer bus just to run over to a football game, he is excited about the future opportunities that arise from playing both sports.
About the Writer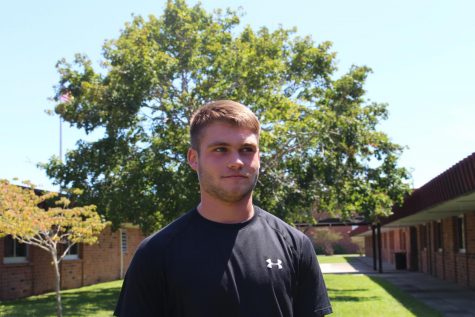 Jay Fletcher, Event Coverage Coordinator
Jay Fletcher is a senior at West Brunswick High School in his third year on the staff of The West Wind. His favorite parts of journalism are interviewing...