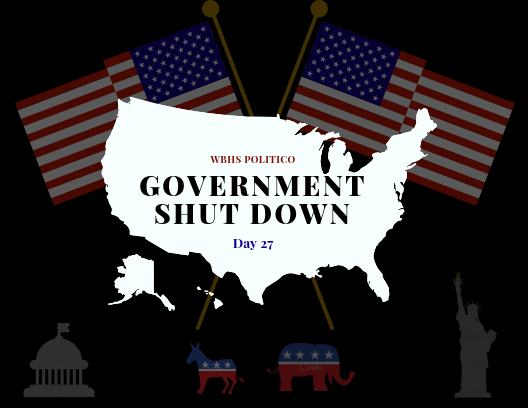 WBHS Politico: Government Shutdown Day 27
January 17, 2019
As of today January 17, the government shutdown is now the longest government shutdown in the history of the country. According to various news sources, the shutdown is due to a lack of cooperation between the two primary political parties the democrats and the republicans.
According to CBS, the government shutdown is affecting the lives of 800,000 workers and of those workers, 380,000 have been furloughed without pay. The number of people personally affected by the government shutdown may seem small in comparison to the size of the country but most of those federal workers have bills to pay and many have become dependent on food banks, churches and the help of various other groups.
Is it time for the government to come to its senses? Should President Trump and his fellow Republicans be the bigger people and end the shutdown now? Or Should Speaker of the House Nancy Pelosi put aside her personal beliefs and convince her fellow Democrats to fund the wall?