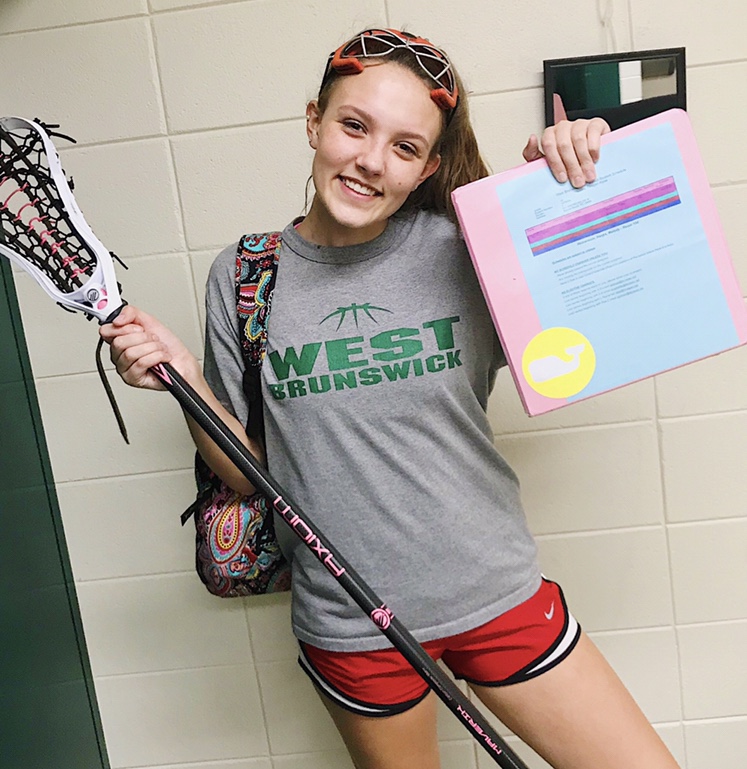 Photo by Teagan Coley
The Life of a Student-Athlete: The Balance
February 28, 2019
As a student-athlete, maintaining a balance between academics and athletics can be exhausting. Being a student-athlete myself, I have experienced firsthand how challenging it can be to excel at both. I play women's lacrosse for West Brunswick High School along with travel lacrosse for TEAM Pride. I attend school throughout the day and practice until 5:00 PM after school. After a long day at school and lacrosse, I have hours of studying and homework to do once I get home. It's a lot of pressure to enroll in honors classes in order to work towards obtaining a high GPA that will allow acceptance in prestigious universities after graduation.  At the same time, it is also important to be part of a team sport. There are so many life skills gained from group activities: learning to get along with other people, understanding that other players depend on you to be there, good sportsmanship, etc. It is important for any student that aspires to transcend academically as well as athletically to make good use of their time, stay focused, and work hard.
Time management is the key to balancing school and sports. If you want to be successful, you should make good use of your time. Instead of letting your work pile up over time, you should take advantage of any free time you are given, even if it's just 30 minutes. This will make life less stressful in the long run. Although it can be difficult to maintain a balance, it can be made easier if you put in the extra effort.
Here's some more tips that will help you achieve success in the classroom as well as sports:
Acquire a planner or calendar to help keep your schedule in check.

Attend study hall if given the opportunity.

Make good use of your time.

Study in advance so you never get behind in your classes.

Avoid procrastination.

Don't take on more than you can handle.

Have good attendance at school and sports practices.

Keep a consistent sleep schedule, get at least 8 hours of rest a night.

Always be prepared to do your best, both academically and athletically.