Women's Varsity Volleyball Preview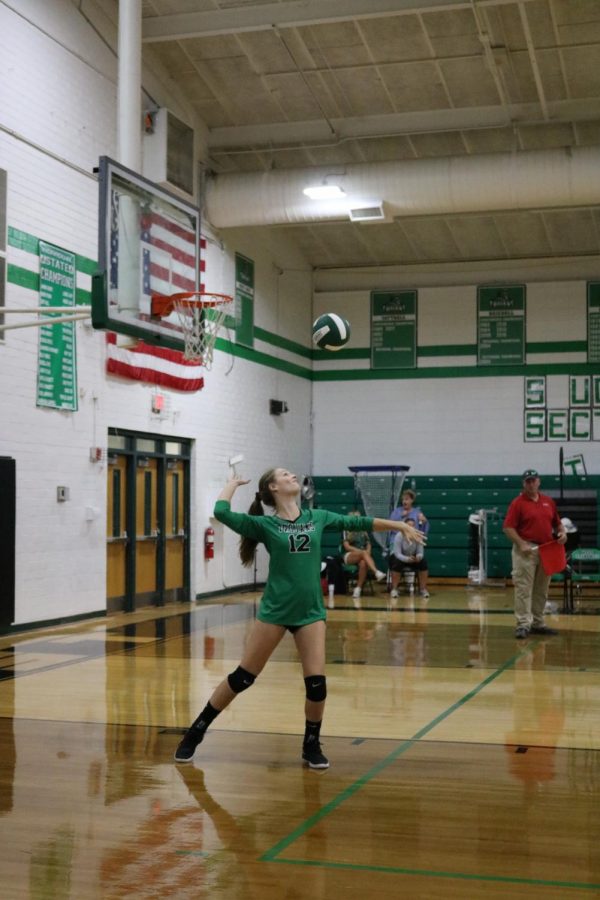 After a challenging season last year, the Lady Trojan volleyball team, led by Coach Pardee, is looking forward to improving overall. Their primary focus for this season is statistics. Last season, the Lady Trojans held a record of three wins and eleven losses but have high hopes for the upcoming season.
"Personally, I want to improve on hitting, but as a team we all want to make playoffs this year," said Devin Simcox.
The team experienced a considerable amount of losses last season impacted by an abundance of rescheduled games, but that is not going to stop their motive to improve this season.
"We just want to be up statistically in every category, and if we work on that process day to day that should translate to wins," said Coach Pardee. "Obviously wins are the ultimate measure, but those individual stats as a team are what dictate our level of success."
Each member is integral to the team. To be successful and win games in any sport is not based solely on individual accomplishments but is done by being a team and working hard together.
"I just like how it's more of a team sport than others because it's so close-knit," said Simcox, who has enjoyed playing volleyball since she was in the eighth grade.
Just like the end of every season, it is hard to say goodbye to senior teammates. At this season's end, the team will lose three seniors; Devin Simcox, Hailey Wilson, and Leanna Mintz. But as the season progresses, it is already evident that the Lady Trojans have stepped up to the plate despite the loss of last years seniors.
"Well it's no different than any other year, we have a lot of players on the team that are happy to step up and step into those roles, and they worked hard all summer all offseason," said Pardee. "I think they see which seniors graduated and where there's opportunity for them to earn themselves more playing time so really a lot of our players from last season stepped up and filled in those roles."
While the Lady Trojan volleyball team looks forward to playing every game in the season, there are always a few games where the competition gets real and gets the team and fans hyped up.
"Always the North and South games, you've got that county rivalry going on and I feel like those are the ones that we really get hype for usually that's where the fans are," said Pardee. "Our fan section is always the largest in those games, and for me that's important, I love seeing the fans out there cheering their team on."