Spooky Scary Songs for Spooktober
Hang on for a minute...we're trying to find some more stories you might like.
It is officially October and we all know what that means… Halloween! As a former emo kid and horror movie fanatic, this is a really big deal for me. I go all out for spooky season because I believe it is the best season, other than Christmas. You can catch me at all the haunted trails and Halloween stores. Once the month is over you'll see me in the clearance section of Walmart buying all the 50% off Halloween themed goodies. I am very passionate about Halloween and in the spirit of Halloween, I thought it would be a great idea to make a spooky themed playlist to get others just as hyped for the scariest season of the year.
Spooky Scary Skeletons- Andrew M. Gold
We have all heard this song at some point in our lives, whether it be at a Halloween party or in a Halloween themed meme. This song is the Halloween anthem. It's catchy, upbeat and overall really fun. 
This Is Halloween- The Nightmare Before Christmas 
As a kid, I was always captivated by Tim Burton. Nothing got me more simultaneously hyped for Christmas and Halloween than The Nightmare Before Christmas so it's no surprise that this song made it to the list. This song makes me feel like the pumpkin king, soaking up in all things spooky.
 Thriller- Michael Jackson
Again, this song is also a Halloween party classic. Thriller is just a funky song that you just can't help but dance to and the fact that it has a dance that goes along with it makes it better. The music video is a thriller within itself. 
Along with these three songs, here are a few more for you to jam out to throughout October as well:
Monster Mash-Bobby Pickett 
The Boogie Monster-Gnarls Barkley
Ghostbusters-Ray Parker Jr
The Addams Family Theme Song-Vic Mizzy
Witch Doctor-Ross Bagdasarian Sr.
Creep-Radiohead
I Want Candy-Bow Wow Wow
Zombie-The Cranberries
Highway to Hell-AC/DC
The Monster-Eminem
I Put A Spell On You-Creedence Clearwater Revival
Addams Groove-MC Hammer
I'm Your Boogie Man-KC & The Sunshine Band
Somebody's Watching Me-Rockwell
Scooby Doo, Where Are You?-David Mook and Ben Raleigh
About the Contributor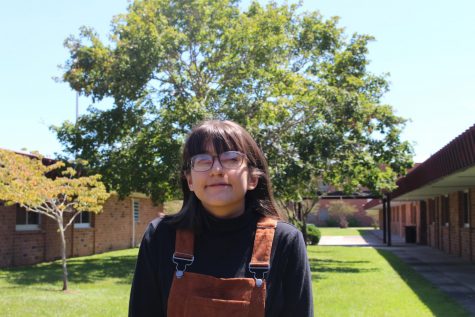 Erika Jimenez, Art Director
Erika Jimenez is a senior at West Brunswick High School and is the Art Director for the West Wind magazine. This is her third time participating in the...