Rising Fashion Trends For 2021
Fashion trends come and go. From old 80's styles, like mom jeans and bright colors, to recent fashion trends like an alternative look and indie-inspired styles. It's always hard to predict the upcoming fashion trends when they are all suddenly changing. 
A lot of new trends seem to be inspired through TikTok or by big influencers. Fashion is a way for someone to express themselves. Many tend to build their style off of their certain aesthetic. Here are some fashion trends that are currently rising and/or entering into 2021. 
Mom Jeans:
Mom jeans have been around since the 1980s and were the "butt" of many jokes in the early 2000s, but fashion trends always make comebacks. Looking into a (socially distanced) crowd, you will see at least one person wearing mom jeans. They're pretty easy to style and anyone can rock them, so I see as to why they became so trendy. Throw on some hightops and a crew neck, and you have a complete 80s/90s inspired outfit of the day. 
Flannel:
Flannels have seemed to find their way through this year's style as well. Whatever way you decide to wear them, buttoned up or unbuttoned, flannels are a fun look. They are easy to wear in the summer over a tank top and easy to wear in the winter over your hoodie if you want to spice up your winter outfit. 
Oversized Clothing:
Oversized and baggy clothes have also been in style recently. For example, oversized zippered hoodies. Over-sized zippered hoodies are an easy way to add an indie-inspired touch to your outfit while still looking fabulous.  
Shoe Trends:
Enough with clothing, let's talk about shoes. Some shoes donning many feet lately are high top sneakers. White Converses have been pretty popular lately, and they look good with almost any type of outfit. Converses also come in all sorts of colors and styles, so that's definitely a plus. Another pair of shoes that have most recently become trendy are the Vintage Nike Blazers. These are super cute and, like Converses, go along well with many outfits. 
Color Forecast:
Besides clothes and shoes, certain colors have been popular in the fashion world. Pastel colors started to become trendy in the summer. As for this winter, shades of browns and greens, more specifically sage green, have been seen around a lot more. 
Every generation has created their own styles, although some trends never seem to go away completely. Styles build off each other and are innovated into newer, more trendy looks. In 2021, you can expect several different kinds of rising fashion trends. 
About the Writer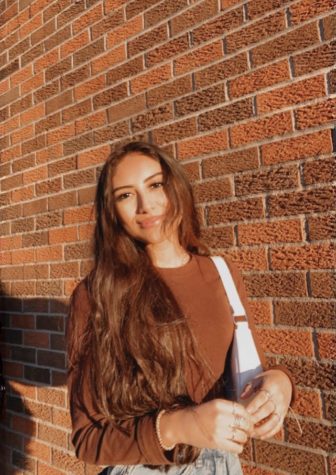 Emely Olmedo, Editor in Chief
Emely Olmedo is a 16 year old junior at West this year. She prefers to spend her free time spending money, listening to podcasts/music, hanging out with...