The Rare Occasions: Exclusive Interview
"These were the kinds of things that were out of our control, we didn't write Notion to fit any mold of the internet, we've just been putting out music and doing our thing for years, and finally that one blew up, I don't know why it was that one but that's what happened, and here we are."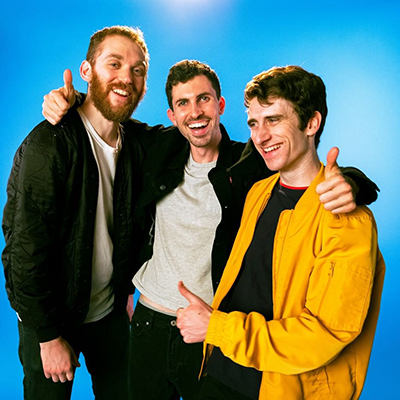 Garage band, indie rock, and philosophical, catchy lyrics come together in the indie band The Rare Occasions, consisting of Brian McLaughlin (lead vocals, guitar), Jeremy Cohen (bass guitar, backup vocals), Luke Imbusch (drums, backup vocals) and formerly Peter Stone, form a unique band that I had the pleasure of interviewing. 
When asked about the origin of the band, they revealed that it wasn't always called 'The Rare Occasions.' 
"We called ourselves The Custodians in our first couple gigs in college." Said Brian McLaughlin. 
And they also didn't always have studio-quality opportunities.
"We just recorded them (songs) in our practice rooms, like in our dorm rooms in college." Luke Imbusch revealed. 
According to Brian, he and Luke also had musical experience as a child, with folk music playing a role. 
"When we were kids we were kinda too young to go to a club and see a rock band in concert, so a lot of our earlier concert experiences were musicians coming to our school, and there was also a local folk artist, called Atwater-Donnelly that would play on the town lawn." 
Playing music and having experience seeing musicians play live helped lead to a positive performing experience for the trio, enjoying playing all of their songs live, some slightly more than others. 
"I think some of the ones that we like to play live, Control is one of them, Mercy Mercy is usually pretty fun, and there are some new ones I think will go well with the audiences based on how they felt in rehearsal." Brian revealed. 
However, Luke says the fan participation is one of the best parts. 
"The ones the audience gets into are the most fun because we always perform the 'jump test' with our favorite songs to play…If it's at the right tempo that you can jump to it then we know the audience will get moving to that. Those are the most fun songs to play." 
While performing live is a large part of the bands career, they also have made several music videos, one of the most popular being "Set It Right", in which Brian rides a unicycle while singing.
"It goes back to our middle school days, Luke and I, when we were like maybe twelve or thirteen, we both played in a talent show and my talent was riding a unicycle. Our idea for that video was like let's do the craziest, weirdest thing we can, and that was what I could think of…I was into skateboarding, I think my mom was a little a bit scared of me becoming a skate rat and kinda becoming a punk kid and hanging out with the wrong crowd, so she saw that I liked the physical challenge of trying to learn a new skill, and so she like 'let me get him something that's a little more…eclectic. 'That'll keep him off the streets' (laughs) so she got me a unicycle for Christmas and I learned how to ride it, and actually had a lot of fun! Thanks, mom" 
However, one of their largest popularity spikes came from their hit song 'Notion'. 
"I mean we sorta get a little flavor of internet fame, uh back in like 2017/2018…So basically, there's a gamer…Bugha, he shared a video of one of our songs like back in 2017 it was both (Mercy Mercy and Backwards) of his just like Fortnite montages, he put those two songs in the background of one of his videos. (Once Bugha won a competition) I think everyone kind of latched onto the idea of if you use The Rare Occasions music in your Fortnite montage videos then you'll win Fortnite championships (laughs). We're all proud of the work that we do, but did get a stroke of luck in the sense that someone used our music and that person happened to win a competition. And so all these people who looked up to Bugha because he won, saw that he used our music and then all those people started to use those older songs, and eventually Notion got roped into that whole scenario." Said Jeremy Cohen.
Although the song was never intended, or expected, to be such a hit.
"These were the kinds of things that were out of our control, we didn't write Notion to fit any mold of the internet, we've just been putting out music and doing our thing for years, and finally that one blew up, I don't know why it was that one but that's what happened, and here we are." Luke explained.
And the song itself was made at a time before TikTok, a time when the band recorded in separate locations.
"We recorded that song in different cities. Like Luke was in LA and I was in New York, Brian was in Boston, like we were all scattered across the country…It didn't feel like a TikTok hit when we were writing it because TikTok didn't exist when we wrote and recorded the song." Jeremy said.
However, TikTok and Fortnite are definitely not the only reason the song, and to extent the band, was launched into fame.
"It has to be a good song, but also a little stroke of luck and you get like a push from the internet…And whatever the message is, it has to be genuine, even if you don't agree with it I think people just smell lack of genuine approaches to a song, and I think this one definitely checks that box." Jeremy stated.
You can find The Rare Occasions on Twitter, Instagram, and anywhere you listen to your music. They also plan to go on a National Tour from April-June, you can purchase tickets wherever you get your tickets from.