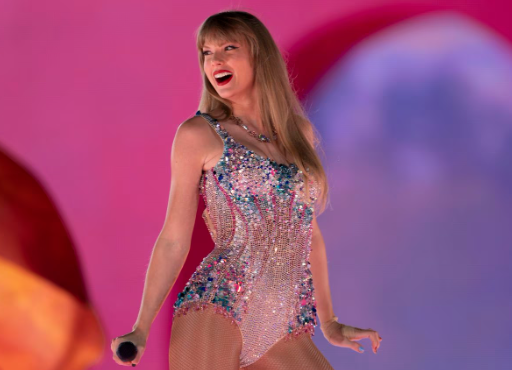 After long months of systematically watching TikTok live streams, staying up all hours of the night waiting for surprise songs, and traveling hours upon hours to shows, Swifties have an Era's Tour Movie on the horizon. Taylor Swift, the one and only, is coming out with the Era's Tour Movie on October 13th. This 2-hour and 45-minute movie is one of the most anticipated movies of all time, breaking presale records with an incredible twenty-six million dollars in just the first day. 
Willow Pierre, being able to go to The Era's Tour, was surprised Taylor Swift had time in the day for everything, but was thrilled to see the announcement, wanting to see more of what she got a glimpse of the night of her concert.
"When I went to the concert, it was unlike anything I had ever experienced before," said Pierre. "It was an amazing experience, and I'm really wanting to see behind the scenes. I haven't bought tickets to the movie yet, but I'm definitely going."
Tickets are on a first come first serve basis, with a maximum of four tickets per person. Taylor Swift Era's Tour Movie tickets are available on AMC Theaters, Regal Cinemark, and Fandango. The ticket prices are listed as $19.89 plus tax for adult tickets and $13.13 plus tax for children's and senior tickets. Prices many are more willing to pay than concert tickets.
Taylor Swift has been on tour for six months, since March 17th, during this time the Era's Tour has grown to be the highest-grossing tour of all time, passing Elton John's multi-year farewell tour. Fans being so dedicated to Taylor Swift have traveled miles on miles and gone to incredible lengths to see her perform and the ones who haven't been able to see her live on tour have been watching the tour in different ways, and are waiting anxiously for the movie to come out. Autumn Wyatt is one of these fans. 
"I really like Taylor Swift, I kind of grew up listening to her," said Wyatt. "I didn't get tickets to see her live, but I'm definitely looking forward to the movie."
Swifties have been speculating how this movie will be set up and if all the surprise songs will be in the movie as they were in the concert, but are unsure since the whole show is 3 hours long with a total of 44 songs including the 2 or 3 surprise songs that occurred each night. 
"I'm just hoping to hear her perform one of my favorite songs, "The Other Side of the Door," said Pierre. "She played it the night I was there and it was amazing." 
Swifties have no doubt that this movie will be incredible because of the lead-up with her previous movies and albums. 
"I've listened to Taylor since 'Fearless' came out the first time," said Pierre. "My sister absolutely loved "Fearless", so I listened to it daily, which I definitely didn't mind."