The Life of a Student-Athlete: Freshman Year
Hang on for a minute...we're trying to find some more stories you might like.
For most incoming freshman, advancing to high school can be an intimidating experience.  In middle school, there are not as many students, so you receive more nurturing from the teachers. The environment is much smaller, so it is easier to feel more self-confident in areas such as academics and athletics. High school could not be more different. There is competition everywhere. This ranges from who is valedictorian of your class to making cuts on a sports team. Getting started is not so bad, but before you know it deadlines are near and tests become more frequent. Teachers expect a level of independence not required in middle school.  
My freshman year at West Brunswick was more eye-opening than I could have ever imagined.  The first semester really put into perspective how big of a deal high school really is. Every test you take, quiz, or classwork assignment you complete adds up to reveal your overall grade, contributing to your GPA.  For any student hoping to get into a more distinguished four-year college after high school, things such as your GPA, SAT, and ACT scores play a major role in getting accepted. You have to stay focused and on task to make sure your grades are a good representation of you and what you have to offer as a student.
Touring the school during freshman orientation did not quite prepare me for the expectations I would have to live up to being a high school student. Rising ninth graders should try to get actively involved within the school early on. This can include joining clubs, playing sports, or even volunteering around campus. I played women's lacrosse but did not join as many clubs as I wanted to my freshman year. Being involved is a great way to meet new people, including upperclassman who can help make your transition to high school much easier. It is also a great way to stand out on your college applications.  Looking back on my freshman year, I would've made different decisions on my involvement in extracurricular activities. I encourage upcoming ninth graders to get more involved!
About the Writer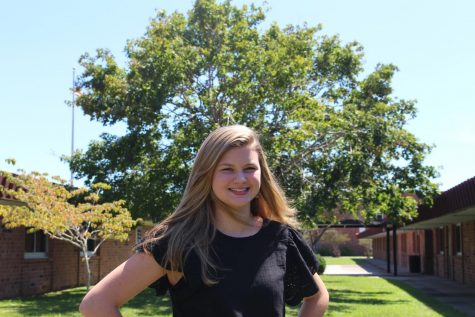 Teagan Coley, Staff Writer
Coley is a junior in her second semester as a staff writer for the West Wind . This year Coley looks forward to taking pictures and covering events. Her...