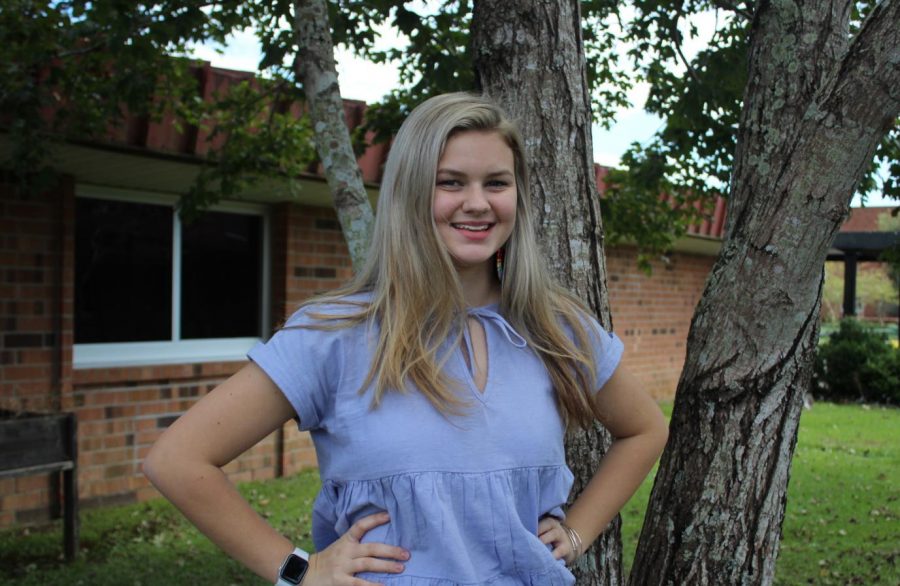 Hobbies: Playing lacrosse, going to the movies, travelling, and hanging out with friends and family.
Favorite Food: Chicken Tenders
Favorite Movie: Mamma Mia 2
As her name is called in front of a big crowd grabbing her diploma and walking off the stage, Teagan Coley thinks about her time at West, friends, family, and so much more; this is only the beginning of her story.
Coley is a senior at West Brunswick and has been part of the journalism program for most of her high school career. 
Coley was born in Supply, North Carolina but grew up on the warm sand of Sunset Beach. Even after college, she plans on coming back to live on the beach. Growing up on the beach has played a big role in Coley's lifestyle.
As her four years of high school slowly come to an end, she plans on making the most of it. Coley is in many clubs which contain FCA, SGA, DECA, and is on the board for the West Wind. Her reasons for being involved heavily consist of her wanting to "learn new things and have new skills in life," to help her succeed, Coley said.
Teagan Coley, Online Director
Oct 19, 2020

Unpopular Opinions: Living in a Small Town

(Story)

Oct 19, 2020

WBHS Seniors Paint Their Parking Spots

(Story/Media)

Feb 24, 2020

The Trojans Compete in the Conference Tournament

(Story)

Feb 05, 2020

Historical Figure Movie Trailers

(Story)

Dec 17, 2019

The Life of a Student-Athlete: Seniors

(Story)

Dec 09, 2019

DECA District Competition

(Story/Media)

Dec 09, 2019

The Life of a Student-Athlete: The Truth

(Story)

Nov 25, 2019

Round 2 of State Playoffs Caps Off a Historic Season

(Media)

Oct 23, 2019

Mrs. Darguzas' Oceanography Class Dissects a Shark

(Story/Media)

Oct 23, 2019

The Life Of A Student-Athlete: Leadership

(Story)

Oct 17, 2019

The Life of a Student-Athlete: Pre-Season Workouts

(Story/Media)

Oct 11, 2019

West Brunswick's JROTC Wins the 2019 Annual County Wide Drill Meet

(Story/Media)

May 29, 2019

The Life of a Student-Athlete: Summer Break

(Story)

May 22, 2019

Teachers with Multiple Jobs

(Media)

May 09, 2019

The Life of a Student-Athlete: College Prep

(Story)

May 06, 2019

The WBHS Baseball Team Defeats the SBHS Cougars

(Story/Media)

May 02, 2019

Clubs Beautify Courtyard Flower Beds

(Story/Media)

Mar 27, 2019

The Life of a Student-Athlete: Freshman Year

(Story)

Feb 28, 2019

The Life of a Student-Athlete: The Balance

(Story)

Feb 14, 2019

The WBHS Trojans Defeat Topsail Pirates

(Story/Media)