Ranking Harry Styles' Songs
Harry Styles is arguably one of the most recognizable musicians of today; from One Direction, his solo career, or even his roles in a few films: Styles is inching closer and closer to icon status. For his big fans, the two of us included, the solo career tends to hold the most weight; we often find ourselves discussing which songs we skip and which ones we play on repeat.
While it's hard to rank Styles' songs when they are all so good, each in its own ways, here are our rankings and reasonings for tracks on both his "Harry Styles" debut album and his "Fine Line" album, released in 2017 and 2019 respectively.
Debut Album Individual Rankings
#1
K: My number one pick from the debut album is "Only Angel." The song opens slowly but picks up after about a minute. I love this song because it gets me excited and pumped up. So it definitely deserves the number one ranking.
J: My number one pick has to be "Kiwi." It starts fast and stays upbeat throughout the whole song. I get into a good mood every time I listen to it–that sounds like a #1-worthy song to me.
#2
K: "Ever Since New York" is a very close second. The vibes I get from this song are amazing. It's got a great beat to it with catchy lyrics. Overall this song is one I would suggest to any new Styles listener. 
J: "Woman" is a close second. It gives off much of the same vibes that "Kiwi" does: upbeat and quick. Like most of his songs, this one is less lyric-heavy. It focuses on the drums and guitar and repeats the lines "Woman" and " La-la-la-la-la-la-la-la".
#3
K: "Carolina" is also an upbeat song and is a good one to sing along to. It's got a fun beat and quirky lyrics. This was definitely a top contender for the second-place ranking but got third strictly due to the difference in vibes from both songs.
J: "Ever Since New York" feels exactly like how I imagine walking through New York feels. It's a contrast to some of his other songs and reminds me of Hozier's music.
#4
K: "Kiwi" never fails to get me hyped up. This song gives me pop-rock vibes, and it's one that definitely stands out from the rest of the album. Undoubtedly, it's a great song and one I listen to all the time.
J: The beginning of "Carolina" is so unlike any song I've ever heard. This one is actually very lyric-heavy and has a sort of rock vibe to it.
#5
K: "Woman" is another song that was hard to give a ranking because it is so good. I love the beat and the continuous "la la las" throughout the song. It truly is a song I listen to daily and never get tired of hearing.
J: "Sign of the Times" is actually the first song I ever listened to by Harry during the start of his solo career. I have a sort of attachment to this song because of that. This song is definitely one of his slower songs and is very sad too. It has a lot of emotion, and you can hear it through the lyrics and his voice.
#6
K: "Meet Me in the Hallway" is a very mellow and relaxing song. I love to listen to this song at night or anytime I'm driving around. It has a really good chorus, and I just love the entire song from start to finish.
J: "Only Angel" has a very soft, heaven-like opening and goes straight into rock. I love this one because of the beat, clapping, instruments, and lyrics.
#7
K: "Sign of the Times" was hard to put lower in the rankings because it truly is an amazing song. I only ranked it low because this song is one that even if you don't listen to Harry, you probably have heard of. It's definitely one of his popular songs; however, it's still well-deserving of that popularity.
J: "Meet Me in the Hallway" is definitely one of his more underrated songs. My favorite part is when he sings "Just let me know; I'll be at the door" because it's such a contrast to the slow parts of this song since that line is just so powerful.
#8
K: "Sweet Creature" is also a song most people have heard, but this song to me just doesn't compete with the other songs in this album. Don't get me wrong it's a beautiful song, and I love the lyrics; it's just that compared to other songs, it doesn't rank as high.
J: "Two Ghosts" is very peaceful and just makes me feel calm. I love this one because nothing is jumping out at you, lyrically or instrumentally. It's just a slow song highlighting Harry's voice.
#9
K: "Two Ghosts" is another mellow song in this album. It was hard putting this song so low, but this one wouldn't be my first pick if I was handed the aux. It is a very chill song that fits in with a majority of the album. Overall this song is really good and still one I love listening to.
J: The beginning of "Sweet Creature" reminds me so much of the beginning of "Blackbird" by The Beatles. This song is probably one of his most peaceful songs. The only negative thing I have to say about this song is that there aren't many lyrics.
#10
K: "From The Dining Table" is a good song but for sure ranked last on my list. The lyrics are definitely telling a story which makes this a good song, but I just don't enjoy listening to this song as much as other songs in this album.
J: Sadly I ranked "From The Dining Table" last, but that doesn't mean I think it's bad! I actually really like this song, just not as much compared to the other ones. Harry's singing voice throughout the entire song is like a deep whisper, unlike his other songs.
Fine Line Album Individual Rankings
#1
K: "Fine Line" is lyrically and musically beautiful. I could listen to this song over and over and never get tired of it. It totally deserves to be ranked first and wouldn't belong anywhere else on this list. 
J: "Fine Line" is a masterpiece. The song is very instrumental-heavy with very meaningful lyrics. If I had to choose one song to listen to for the rest of my life, it would be the six minutes and seventeen seconds of "Fine Line".
#2
K: "Golden" is right behind "Fine Line" and is so hard to put second. It's so happy and upbeat, which I love. Anytime this song comes on, I am instantly turning the volume up and singing at the top of my lungs.
J: "She" is definitely a close second. The song is very relaxing yet remains upbeat with the guitar and drums. I also love the lyrics in this song because it actually tells a story if you listen closely.
#3
K: "Sunflower, Vol. 6" is a really quirky, fun, and upbeat song. This song is one I would listen to on a summer road trip or just relaxing on the beach. The beat is really good and the lyrics are fun making this song one of the best from the album. 
J: "Cherry" is one of his more sad songs but it's also one of my favorites. The lyrics have a lot of meaning and they could really resonate with a lot of people.
#4
K: "Lights Up" has a heavy bass to it and I love it. This song holds a special place for me because it's one of his songs that made me excited for the Fine Line album to be released. When this song came out, I listened to it nonstop, and even now I still love it. 
J: "Sunflower, Vol. 6" is so fun and upbeat. I agree with Kate about how it makes you feel like you are on a summer road trip. Definitely one of his best songs.
#5
K: "She" reminds me a lot of "Woman" from his debut album. This song is amazing instrumentally with an electric guitar solo that lasts about two and a half minutes. That may seem long, but when listening to the song it is so relaxing. 
J: "Golden" is such a cute song. It reminds me of a lot of "Sunflower Vol. 6" because it has the same kind of upbeat and happy vibe.
#6
K: "Cherry" is one for people who love emotional songs. This song is so good and is definitely one that deserves to be high on the list especially with its heartfelt lyrics. This song is one I would recommend to anyone in a heartbeat.
J: I absolutely love the beginning of "To Be So Lonely." The vocals in this song are some of my favorites and I love the instruments in the background.
#7
K: "To Be So Lonely" was hard to rank lower because I really do love this song. I love the beat, and the lyrics are definitely meaningful. This is a song I would never skip if it came on and would totally jam to every time but not one that I would choose first to play, which is why this song is lower on the list.
J: I've definitely cried to "Falling" more times than I'd like to admit. It's by far Styles' most emotional song because the lyrics have so much meaning and depth. It is thought to be about Styles' failed relationship with ex-girlfriend, Camille Rowe.
#8
K: If you want a good sad song, "Falling" is for you. This song gets me in my feels anytime it comes on. I love this song because you can really tell it's a meaningful song and is written with a lot of emotion. 
J: "Lights Up" is such a party song. If you are a Harry fan, you've definitely watched the music video more than once.
#9
K: I absolutely love "Adore You." It's so upbeat, and I listen to it all of the time and never get tired of it. This is one most people have heard though because it's on the radio a lot, so that's why I've ranked it lower.
J: "Adore You" is such a good song. Sadly, I ranked it pretty low on the list only because it was way overplayed on the radio and I eventually got sick of hearing it every time I got in the car.
#10
K: "Canyon Moon" has a different sound than the other songs on this album. I enjoy this song but it's not one of the better songs, due to the sounds throughout the song. It has a really fun and quirky sound to it but it just doesn't compare to other songs on the album for me.
J: "Canyon Moon" is just one of the songs that I don't really listen to a lot. Whenever it comes up on my playlist, I will usually skip it just because I don't like the instrumental parts. One of the main reasons why this song isn't last is because he says my name in the second verse.
#11
K: "Treat People With Kindness" is honestly such a good song. The only thing that makes this song a lower rank is the beginning of the song. The beginning is just really different and I just don't enjoy it. However, once the beginning is done I really love this song and listen to it all the time.
J: I don't particularly like the beginning of "Treat People With Kindness," which is why it is ranked so low on my list. I do love the message of this song though since it tells everyone to treat people with kindness.
#12
K: "Watermelon Sugar" was such a good song until the radio found it. I love the vibe and the upbeat sounds throughout the song. I just have heard it on the radio so much that it kind of ruined the song for me. However, Styles won a Grammy with this song, so it's obviously a good one for anybody to give a listen, especially if they're new to his music or a casual fan.
J: "Watermelon Sugar" is the epitome of overplayed. The radio ruined a good song, but that is very common nowadays. Backing on what Kate said, Harry Styles did win a Grammy for this song, so it must still be good!
About the Contributor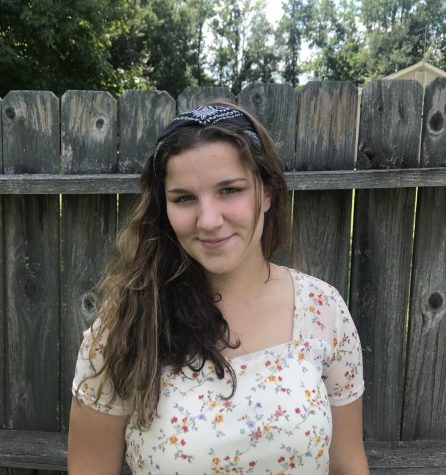 Jennifer Argo, Staff Writer
Name: Jennifer Argo

Hobby: Softball

Fun Fact: Loves Winter

Jennifer Argo is a seventeen-year-old senior at West Brunswick High School, as well...