Brunswick County's New Calendar Changes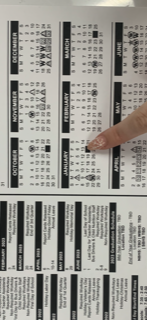 In previous years, there was an average of 15 more school days in the spring semester versus the fall, leaving the fall semester with an average of 75 days and the spring semester an average of 90 days. This year, Brunswick County adopted a new school calendar to better divide school days between semesters to give students an equal and fair amount of time for both the spring and fall semesters. This change to our calendar has brought up many optimistic takes and concerns among staff and students.
Since this change is county-wide, the West Brunswick administration had little say in these decisions. Even though the administration isn't present in classrooms every day, this still affects some events throughout the year the admin takes on responsibility, such as finals week.
"I would much rather it end before," said Dr. Alan McNaughton. "I think our test scores will reflect that we take two weeks off and then come back, and we're here for two weeks. You barely get any review done, and you barely get back into the habit of school, and then you get thrown into exams."
Students have concerns about taking finals after coming back from Christmas break. Are those fifteen days crucial to our fall semester? Or will this hurt us in the long run? That's what many students are asking, but they are heavily encouraged to use Christmas break and these two extra weeks in January to study and get prepared for this semester's finals week starting January 13th. 
"It depends on the tests you're taking; for my class, you have a final review that mirrors your final so that you will have a chance to review it," said math teacher Aleen Moore. "What you'll find with math is once you start doing it again, it all starts coming back because if you already learned it the first time, it's already there. You just need a little push."
This change concerns teachers just as much, if not more than it concerns students. Teachers have to plan how to get all their information out to their students successfully, or preventing them from giving up on other necessary instruction and preparing them for their upcoming exams and new classes.
"When you're talking about a state exam and everything that goes into those tests, we don't have a copy of that," said Moore. "We can't do an exact copy of those in general, so yes, I think you do lose some [information], I think I would."