Breaking Up with the Cold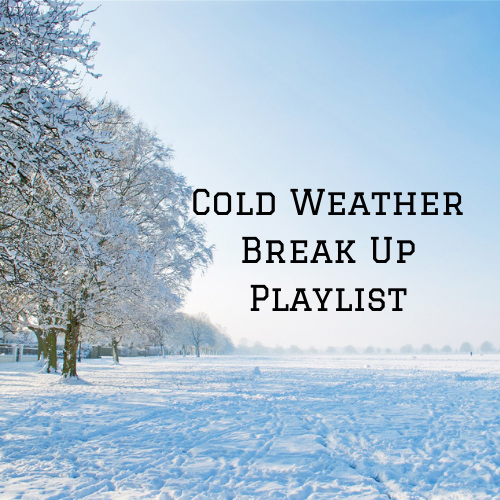 Most people associate the holidays with happy, joyous music; however, if you are a Scrooge like me, you might like a little something like this. The 15 song playlist I have created is for cold weather breakups or for when you just want to feel small. Some of the songs will make you sad and want to curl up next to a fire and others will make you want to get the revenge you deserve. 
Snowman by Sia
"'Don't cry, Snowman, not in front of me. Who will catch your tears if you can't catch me, darlin'?'"
I think this lyric speaks well for the whole song, the key element words 'if you can't catch me' shows the pain of feeling alone and betrayal. The female persona in the song clearly feels helpless, she's hit the epitome of heartbreak and an all-time low. I just had to put this song in the playlist because it is a Christmas song and also isn't a happy one. I love it because it shows the parts of a breakup: love, regret, obsession, and finally breaking away. 
I Love You So by The Walters
"'You're saying I'm the one but it's your actions that speak louder.'" 
This lyric doesn't show the holiday vibe but the music in the back does. The lyric really gives that 'I'm alone now' feeling. This heartbreak song shows the male side of things, he is saying that her actions speak louder than words, and I just really find that to be a good line. This song is very much a crisp and cold one, I don't think I could find myself listening to this in the summer or when it's warm out. 
Coldest Winter by Kanye West
"Memories made in the coldest winter, goodbye my friend, will I ever love again?"
This song by West is the epitome of a cold-weather breakup song. West has many lines in this song that states his sadness along with making sure people know it's a cold-weather song. When he says 'Memories made in the coldest winter'" he means exactly what he says, he talks about the memories and how he misses her. I like how this song was written by a man because it shows that men have feelings too. 
Back to December by Taylor Swift
"'I go back to December all the time"'
I really love this lyric because it's by Taylor and also because it shows the urge to get back into that relationship. When she says she goes back to December, she's implying that she is going back to the memories that she shared at that time. I think it is really significant because it is a literal holiday breakup song, it's also really empowering for women because Swift implies that it's okay to feel this way and you don't have to get over relationships just like that. 
There are 15 total songs on the playlist, some with more cold weather vibes than others but all of them come together to make something really enjoyable and great. https://open.spotify.com/playlist/6bkKkE42pgBWYzRsiiA7O9?si=3_PT8WI9SGax03vYfV9Y8w