Jack Racks 400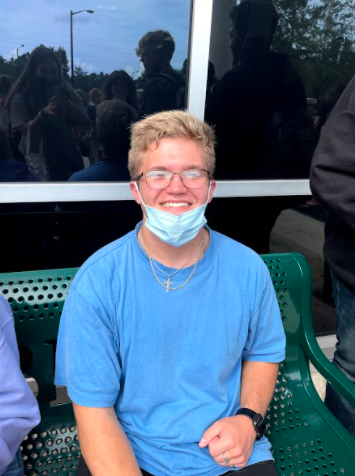 West Brunswick Sophomore, Jack Osbahr is a 16-year old weightlifter. He started his journey about a year ago and has been going strong since the beginning. There were some hard days along the way, but Osbahr knows how to keep his head high. 
"I started weightlifting to make myself better," said Osbahr. "I feel like I could be an inspiration to those around me and show them that time is progress."
Osbahr squats 400 pounds and bench presses 240 pounds. He feels proud of himself for getting to this point and even says that he is his biggest inspiration. Osbahr works out six times a week and has chosen Sunday as his day off. 
Osbahr talks about how there is no need for pre-workout when you have a good mind-muscle connection. He believes working out by yourself is nice because you can go at your own pace but working with friends is nice too because they give you a push that you can't give yourself.
"I know it sounds cringy, but if you scream at yourself in the mirror, it really gives you that boost of natural adrenaline rather than getting a fake one," said Osbahr. "It's also good to flex in the mirror to show yourself how far you have come." 
Away from weightlifting, Osbahr likes to do things with his friends such as playing games, drifting his car, and going to car meets. Osbahr has set some future plans for himself such as: becoming a physical therapist, having his own gym, being a coach, and as a side job, he would like to work on cars.
"I would like to help benefit others as I have benefited from myself, I'd like to give people the opportunity to grow and make the best version of themselves," said Osbahr.  "That's why I would like to open a gym and be a physical therapist. I think people can really grow from that."