Varsity Lacrosse Senior Night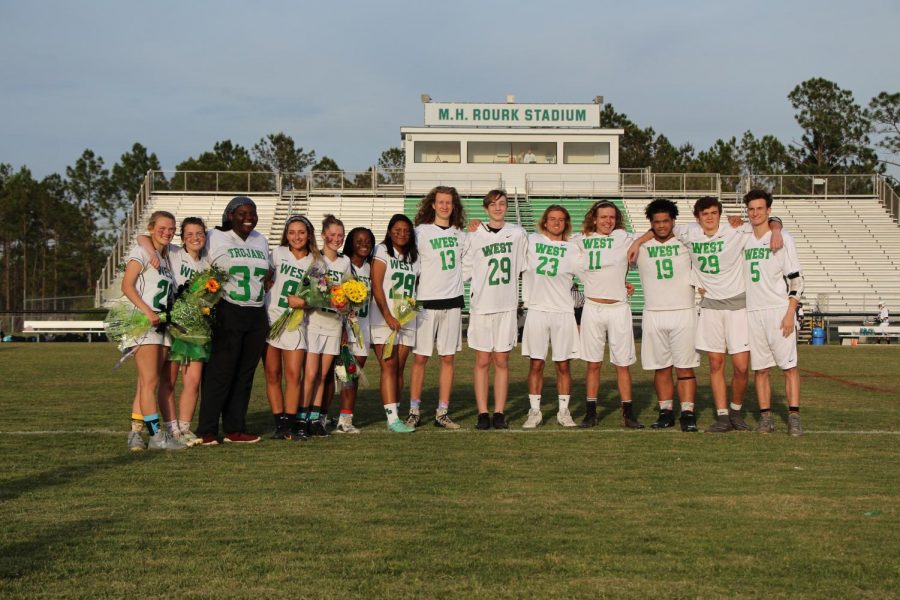 The Varsity  Women's Lacrosse team celebrated their seniors on Wednesday, April 17th. Both teams ended the night with victories over the SBHS Cougars in their rivalry games. The Varsity Women's Lacrosse team gained their 4th conference win and 6th victory overall winning by a score of 13-3 to close out their season.
Varsity Women's Lacrosse
Rebecca "Becca" Jackson
Jackson is in her second official season of Varsity Women's Lacrosse. Jackson played her sophomore year but was unable to participate her junior season due to medical reasons, Jackson did not allow her illness to keep her away from the field she became the manager for the team and continued to practice until she found her back onto the field this season. Jackson played attack for the Lady Trojans and scored her first goal in her final game.
Jazmin Torres
Torres is in her second official season of Varsity Women's Lacrosse. Torres played her sophomore year but did not play her junior year. Torres worked hard during her hiatus from the team. Torres played defense in most games this season contributing to her being one of the more valuable players coming off the bench.
Chloe "Coco" Lach
Lach is her third consecutive season of lacrosse. Lach began playing her sophomore year after she decided the sport would be an interesting activity. Lach quickly worked her way into the teams starting the lineup with her strength and speed under the tutelage of Coach Kate Gentle, Lach became one of the teams strongest attackers tallying 41 points over her career.
Molysha "Moe" Brown
Brown is in her fourth consecutive season as a starter for the lacrosse team and her third consecutive season as a captain. Brown began playing lacrosse after being introduced to the sport by former Coach Gentle. Brown quickly developed into a great goalie receiving Honorable-Mention her freshman and sophomore year and 1st Team All-Conference her junior year. Brown plans to continue her academic and athletic career at Delaware State University.
Isabelle "Izzy" James-Hutson
James-Hutson completed her fourth and best season as a Trojan. James-Hutson a true defender began playing lacrosse her freshman year but became a key member of the Lady Trojans Defense her sophomore year and has since been a starter. James-Hutson tallied 150 ground balls, 42 takeaways, 4 assists and 4 goals in her career as Trojan. James-Hutson was also a Captain for two years. She plans to continue her academic career at NC State in the fall where she will consider playing club lacrosse for the Wolf pack.
Kara "KB" Cheers
Cheers is a four-year member of the Lady Trojans lacrosse team. Cheers play whatever position placed in front of her but her true home is attacked. Cheers became a cornerstone of attack in her sophomore year and became a consistent starter because of her passion for the game and consistent style of play earning her a captain spot in her junior and senior seasons. Cheers finished her high school career with 100 points; 67 goals and 33 assists, 244 ground balls, 2 interceptions, and 18 takeaways. Cheers plans to pursue her various interests at BCC.
Kaliyah "Kaleezus" Matthews
Matthews is a fourth year Trojan. Matthews freshman year she played attack but, in her sophomore year, she was placed on defense and hasn't looked back since. Matthews aggressive style of play and quickness earned her a starting spot on the team's zone defense. Matthews sense of humor and passion for the game were two of the reason she was elected as captain for her junior and senior year. Matthews plans to pursue nursing at East Carolina University in the fall.